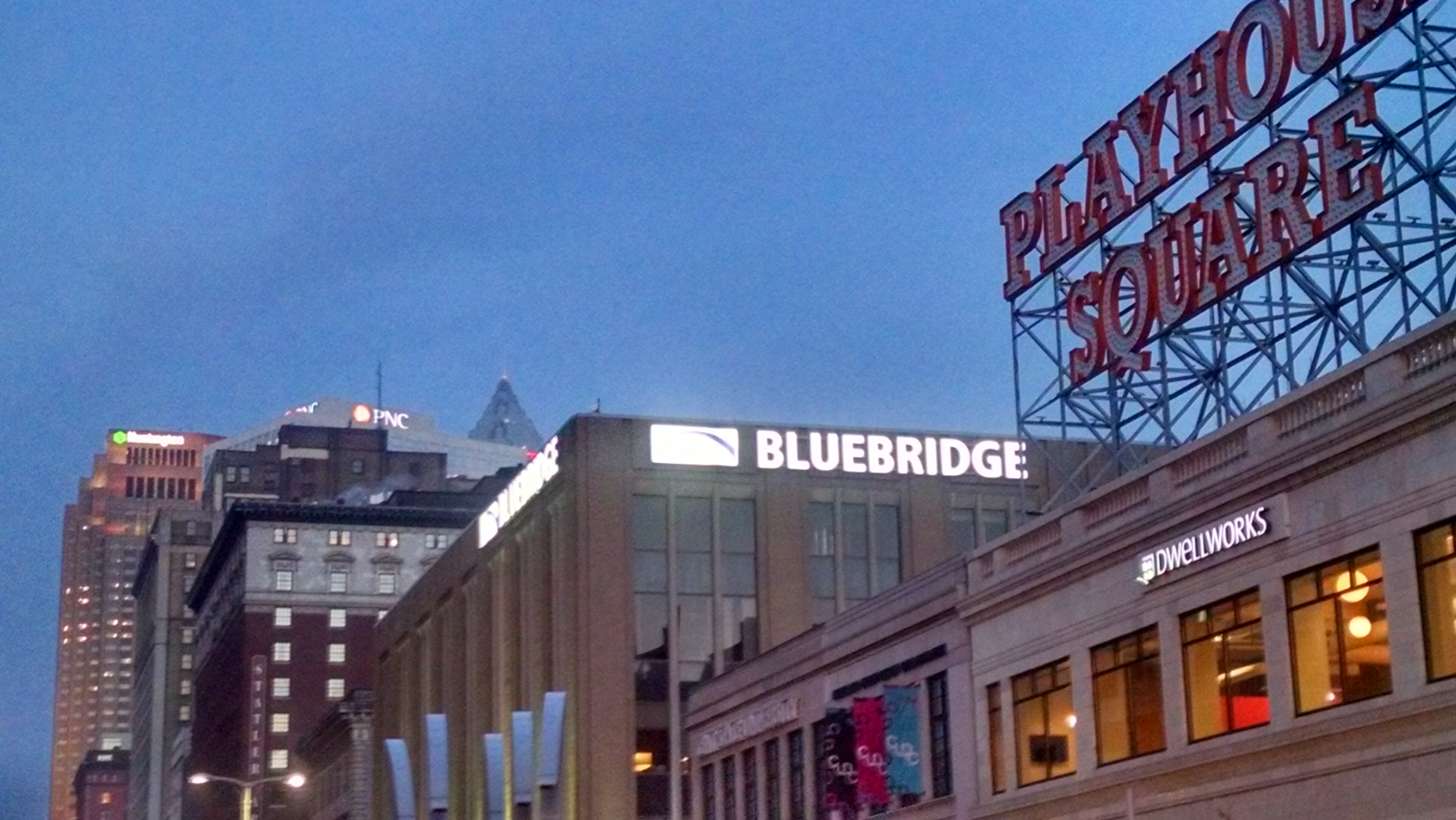 Exciting Times in Cleveland – The 100 Gigabit in the Health Tech Corridor Creates a Catalyst for Continued Improved Quality of Life
This week we have a growing list of movement in the Technology and Economic Development arenas to be excited about in Cleveland. On November 21st it was announced that Cleveland is getting a 100-gigabit Internet connection with the financial assistance from the federal government, the city and nonprofit broadband supplier and BlueBridge Networks ten year vendor in its core , OneCommunity . This installation will run from downtown Cleveland, Playhouse Square where BlueBridge has its world Headquarters and flagship for the last ten years to University Circle.
Customers of Cleveland, Ohio's BlueBridge Networks have come to rely on the data center services, and utility cloud provider's keen ability to offer and maintain optimal data center and cloud security will be able to leverage this offering
Lev Gonick, One Community CEO has said that construction of the game changing network is expected to start in January 2014 and is to be up and running in six to eight months. OneCommunity will steward fiber cable through the three-mile long corridor from the Idea Center at Playhouse Square to Case Western Reserve University at University Circle, with the direct coverage area stretching north-south from Chester to Carnegie avenues. Buildings and businesses outside this footprint will be able to connect to what Gonick calls "backbone" that his organization is constructing. The good news for many existing and potential new BlueBridge customers is that the topology will traverse Case Western Reserve and IdeaStream, in the Idea Center when it goes live.   These two initial nodes are currently interconnected to the BlueBridge Flagship and have a ten year track record of operational excellence and delivery of Data center Services along its route.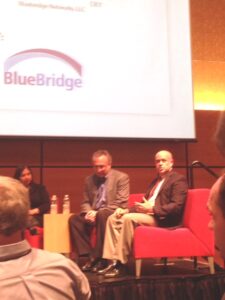 BlueBridge Networks will remain poised to serve technology solutions along this topology  due to its robust infrastructure, high availability, reliability, levels of compliance and security. It will continue to deliver infrastructure that will uniquely support the shift toward Northeast Ohio as a Smart Region.  BlueBridge Networks welcomes One Community's role, under Lev Gonick's leadership, to partner with others in our Region to ensure that we utilize this competitive advantage to improve our region's social and economic prosperity. This past Friday, November 21st, the organization made an announcement with the City of Cleveland about next steps to transform Cleveland into a "gig city" with infrastructure improvements along Euclid Avenue, where BlueBridge and many of its ten year customers are located. This advancement will help enhance Downtown's ability to attract more tech-based companies to the urban core. Downtown and Cleveland businesses and institutions like Rosetta, BlueBridge, and FIT Technologies, Asurint, Brand Muscle, Cleveland Museum of Art , Jurinov, Cleveland Schools and others already benefit from the Health Tech Corridor's fiber connections. This week's announcement will only better position downtown Cleveland headquartered, owned and operated managed data center services and cloud facilities such as BlueBridge to serve Northeast Ohio's and the world's technology innovations.
This year alone, BlueBridge has also added several new Tier one Telco's to its core. OARnet is one of them. "One of our goals is to provide customers with the highest-speed networks available and connectivity that is fully redundant and affordable. We are excited to have OARnet provide a highly robust telecom infrastructure and connectivity options to its members, providing them with leading-edge connectivity and disaster recovery capabilities, while enhancing economic development and improving their business performance," said Kevin Goodman, Managing Director, partner of BlueBridge.
"BlueBridge is excited to announce our partnership with OARnet.  Staying operational is at the core of our mission, and being chosen by OARnet to collocate in trusted facilities like BlueBridge ensures that the OARnet network maintains the standard of excellence that it has put forth in its day-to-day operations," said Goodman.
Much of the excitement for this work is held especially true when it comes to HIPAA regulations. For hospitals, research facilities, schools and businesses dealing with the healthcare industry, the regulations for maintaining patient and student confidentiality can be cumbersome and frequently amended or updated. BlueBridge's multi-pronged solutions for HIPAA have been invaluable to many businesses related to the healthcare and education industry. With a self-imposed system of checks and balances, as well as third party audits, BlueBridge will be able to continue to practice what it preaches and better serve the marketplace.
Customers who have come to rely on BlueBridge for maximum HIPAA and Student Information Act Protection solutions include The American Red Cross, Cleveland HeartLab, DataTrak International, PBM Corp., Premier Physicians, SS&G Health Services, Independent Physicians, Cleveland State University, Cleveland Municipal School District and Southwest General Hospital among others. Our work within healthcare and education industry may be diverse, but all must be ever-vigilant about HIPAA HITECH law and requirements.
The BlueBridge team makes a point of not only staying current with HIPAA rules and regulations for their own customers; we also often share that knowledge with the community, hosting special IT security events such as – HIPAA HITECH Compliance: What Organizations and Their Business Associates Need to Know and Security and Compliance in the Cloud.
Recently, BlueBridge co-sponsored and participated on panels with Jurrinov, Benesch, Tucker Ellis, MetroHealth, Cuyahoga Community College and BioEnterprise among others. These events are open to their entire business community and have been held at Tri-C's Advanced Technology Training Center at 3409 Woodland Avenue, Cleveland, Ohio and elsewhere. Typically, the panels have been made up of experts in Health Care, Technology and Law and cover a host of topics including:
A timely update on expansion of HIPAA to the workplace.
HIPAA has moved from the bedside to the boardroom: what businesses need to know.
Take away practical guidance and templates to proactively address security and
privacy exposures.
Education is essential, for your workforce and business partners. Learn about training opportunities for your staff and associates.
Best Practices in the data center and cloud services arena
Over the past ten years, BlueBridge Networks has emerged as a state and regional leader in data storage, becoming the first-of-its-kind Ohio-based data center facility with associated facilities on different national power grids. With data center cloud computing facilities in Cleveland, Mayfield Heights and Columbus, Ohio http://www.bluebridgenetworks.com/cleveland-cloud-computing/columbus-cloud-computing, BlueBridge has launched what it calls the "Ohio Cloud" with Data Center Services, Cloud Computing and Infrastructure Solutions across networks.
BlueBridge Networks provide two Cloud Platforms that are designed to deploy and manage large instances of virtual machines, as a highly available, highly scalable and highly redundant Infrastructure as a Service (IaaS) cloud. Its Ohio Cloud solutions allow companies to turn their resources up or down as demand fluctuates while accessing storage space, bandwidth, application and software capabilities they need to run their business efficiently. Whether our customers are looking for a turn-key virtual data center replacement, a DR/BC platform in the cloud, or simply project based compute and storage, we have a solution to fit their needs.
With robust access to the OARnet infrastructure and multiple Tier 1 Telco's in its cloud facilities, BlueBridge  allows OARnet members and its various customers to keep IT dollars and data both local and within the state. "BlueBridge Networks offers two variants of Cloud Services, which is very unique in the industry," says BlueBridge Director of Operations, Petar Bojovic. "This allows us to provide a turnkey virtual data center solution to customers that need some assistance with designing building and operating their instances, as well as an offering for those that are proficient and do not need any administrative or operational assistance. This really positions BlueBridge uniquely as a Cloud Service Provider."
BlueBridge Networks Data Center, located at 1255 Euclid Avenue in Cleveland, Ohio, will serve as a core Point of Presence (PoP) for the Ohio Academic Resources Networks (OARnet) https://www.oar.net/  OARnet has chosen to locate a PoP in the state-of-the-art, fiber-rich, Ohio owned and operated data center in Cleveland to further ensure high availability, reliability and security to its users. BlueBridge Networks' highly redundant infrastructure establishes a consortium of resilient networks within its high-tier data center to serve as a backbone of connectivity for its Ohio members.
Tw telecom, now part of Level 3, a leading provider of Business Ethernet and networking solutions, recently announced it is expanding its nationwide network solutions into Cleveland.  The company is now able to deploy its industry-leading portfolio of data and Internet services to more enterprises in Ohio.  tw telecom also operates in Cincinnati, Columbus and Dayton.
Cleveland businesses will now have access to tw telecom's Business Ethernet, innovative Intelligent Network and IP networking solutions as well as its ecosystem of on-net datacenters.  As part of its entrance into Cleveland, tw telecom recently signed an agreement with BlueBridge Networks, a leading data center and managed services provider, to provide customers of its downtown Cleveland data center location with its networking solutions.
"We are excited to have tw telecom provide a highly robust telecom infrastructure to our Cleveland customers, providing them with leading edge network, enhanced cloud and disaster recovery capabilities, said Kevin Goodman, managing director and partner, BlueBridge Networks.  "Not only does tw telecom's entrance into the market provide our customers with launch pad to these services, but it will enable them to connect to their locations locally and nationally, enhancing economic development and improving their business performance."
"The expansion of tw telecom into Cleveland provides additional connectivity options for our customers, both locally and nationally," said Mike Gearin, area vice president, tw telecom.  "We are excited to provide our award winning Business Ethernet portfolio to deliver resilient, secure, scalable and predictable connections to Cleveland businesses to improve their network experience and performance."
The Cleveland expansion is part of a national multi-market effort by the company to expand its metro fiber footprint across the country this year.  In addition to Cleveland, tw telecom has already entered into four other new markets this year – Salt Lake City, Richmond, Va., Boston and Philadelphia.  The company is also accelerating the density of its metro-fiber footprint in more than a third of its existing markets.
BlueBridge emerged in January 2004 as a partnership between a group of well-established local technology and business entrepreneurs. The aim was to take advantage of underutilized assets in a downtown Cleveland data center.
Last summer, the Cleveland Museum of Art selected BlueBridge Networks to build a cloud-based storage solution that would "provide long-term archival preservation" of the institution's digital assets. In the past twelve months, BlueBridge has earned many accolades including the 2014 Smart Business Magazine "Smart 50″ Award, a 2013  & 2014 Inside Business "Cool Tech – Top 25 Tech Companies in Northeast Ohio" award and 2013 & 2014 NEOSA "Best of Tech Finalist" for Best IT Services Company.
Kevin Goodman, Managing Director, Partner noted, "BlueBridge is in the business of keeping businesses and institutions in business through multiple data center services. First things first, BBN is about best in class data centers where high availability, reliability and security are paramount. We are hyper-focused on Ohio but also service organizations from other states and countries. Many of our customers serve the global economy. Certainly, our greatest success has been in the mid-market.
"While we are engaged in traditional hosting and collocation, we also offer cloud computing, managed services, including managed storage and security and we have a robust enterprise-class reseller division offering a host of hardware and software solutions, as well as data center optimization services. In a web-centric and data-centric world, data is the lifeblood of an organization, and we serve as stewards and trusted advisors offering a total IT solution thereby reducing costs and improving efficiencies," noted Goodman.
"Poised for the next ten years and beyond, BlueBridge continues to invest in the state—one that should be known by its infrastructure in a fast-paced technological world. The work undertaken by BlueBridge contributes to the overall competitiveness and well-being of not just the cities of Cleveland and  Columbus, but a significant portion of Ohio and beyond. We have moved from pioneer to innovator," said Goodman.
"BlueBridge has had the good fortune to become an established player in the vibrant Cleveland technology scene," says BlueBridge CFO, Philip Weihe. "It took the vision of a local investor group ten years ago to understand the potential for developing the Euclid Avenue facility. That foresight along with providing an evolving mix of customer-friendly IT services has resulted in consistent, double-digit growth.  It's an economic model that continues to resonate with the local marketplace as BlueBridge expands its offerings to Columbus, Ohio and the adjoining regional markets."
To that end, BlueBridge Networks, has been and will continue to be a committed partner in bringing regional and Ohio businesses to the global marketplace. The One Community effort will help aid BlueBridge and other technology companies to efficiently and effectively move forward and compete as champions and ground breaking companies http://www.freshwatercleveland.com/features/groundbreakingcompanies071714.aspx  in the global marketplace while improving the quality of connectivity , opportunity and life in our region and world…