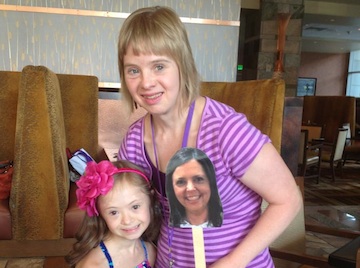 Every now and then God sends someone to show us exactly how it is supposed to be done. Recently that person for me was a women of many titles and roles.
What a terrific and moving morning it was. Just what we all need. I attended the People First Conference in Cleveland. People First of Cuyahoga County is a local chapter of the nationwide self-advocacy group that gives individuals with intellectual and/or developmental disabilities training to build skills in decision-making so they can advocate for themselves. The group is open to all individuals in Cuyahoga County with intellectual and/or developmental disabilities.
I was reminded of why I work on behalf of others — sometimes quietly and sometimes not as quietly — and why our companies engage in the same philanthropic efforts. She incorporated strong reminders to many of the areas I like to bring my time, talent, and treasure to: human/civil rights (including the Americans with Disability Act), economic development and empowerment through education, mental health, healthcare innovation and research, cancer patient care and advocacy, and the arts
A terrific way to gain credibility in the marketplace and gain traction in a region is to demonstrate dedicated and consistent giving and participation in a community over time. These efforts can be most impactful when missions of a company and the organizations it wishes to serve have alignment. It becomes even more impactful as employees' life experiences and common causes sync with these missions. This formula becomes a recipe for success and enrichment all around. True reciprocity!
Companies can legitimately coattail and leverage credibility by delivering over time to a particular mission. Associations with these valued institutions enhance their brands. Employers can help to facilitate an increase in job satisfaction by deepening their employees' held sense of efficacy beyond the "four walls" of the workplace environment.
The company I am privileged to be a partner at is "in the business of keeping businesses in business" and has, for nearly a decade, been a supporter in time, talent, and treasure to an organization that is "in the businesses of improving the quality of life for all people with intellectual and/or developmental disabilities."
The Arc of Greater Cleveland and the local chapter in Cuyahoga County of People First presents a Northeast Ohio Regional Conference every year. For a number of years I served on the Arc Board of Greater Cleveland. Arc is under the kind and thoughtful trusted leadership and direction of its executive director, Cindy Norwood, locally. She is tireless champion and pioneer and the mother of a special needs daughter herself. The Arc of Greater Cleveland believes self-advocacy is essential in improving the quality of life for all people with intellectual and/or developmental disabilities.
The Arc is driven by opportunity — the opportunity for hope, for growth, for change; the opportunity for everyone to be valued, contributing members of their communities. We strengthen people with disabilities, their parents and family members, and dedicated professionals by connecting them across our national network of community-based chapters. Our collective voice provides the opportunity for all of us to make a difference. The Arc of Greater Cleveland is a local chapter providing information and support throughout Greater Cleveland for more than 50 years.
The Arc fosters respect and access for individuals with intellectual and developmental disabilities and their families, giving them the power to achieve a full and satisfying life. The Arc believes that all people with intellectual and developmental disabilities have strengths, abilities, and inherent value; are equal before the law; and must be treated with dignity and respect. The Arc represents, supports, and acts on behalf of individuals and families regardless of level of disability or membership in The Arc.
What does the Arc of Greater Cleveland do?
It helps families get the support they need to ensure quality of life for their family members with developmental disabilities.
It helps families navigate the confusing public and private service systems.
It acts as an ombudsman when families are having issues with service providers.
It guides individuals with intellectual disabilities to become their own advocates.
It serves as a watchdog for any agency or organization that provides services for individuals with special needs.
The People First Conference had a litany of seminars with featured speakers and question-and-answer sessions as well as time to make and meet new friends. The presentations from self-advocates, politicians, and community leaders touched on topics that affect adults with developmental disabilities.
Some of the stated goals of People First of Cuyahoga County are:
Community awareness
Teaching our communities about people with disabilities
Community support
Advocating for the supports people need to live, work and be a part of the community
Health insurance
Promoting various ways for self-advocates to work and obtain health insurance
I was fortunate to meet Carrie Bergeron www.carriebergeron.org for a photo shoot on a story I am honored to be a part of in support of people with intellectual and/or developmental disabilities. We were photographed together and I found myself feeling both startled and at ease by her absolute presence to the moment and by her willingness to connect and be so naturally genuine and vulnerable. If you have ever watched two children who are complete strangers meet on a playground and immediately connect and instantly move from meeting to play like they have known one another all there life, then you may get what I am trying to say.
When introduced to Carrie, formerly a complete stranger, she demonstrated immediate love and simplicity and made me feel like I was the most important person in the world and allowed me to feel as if I had known her a lifetime. We sat cheek to cheek as the photographer snapped away. We laughed and smiled. She had invited me to come back this morning to hear her story. How could I not. I am delighted that I did. Her story moved me to tears of joy and admiration and reminded me of our individual unique gifts and value and our particular place in the world.
Listen to her story and see for yourself what moved and inspired me today:
Carrie Bergeron has many roles and titles in her life. Among them, she is a first-degree black belt in Tae Kwon Do, a daughter, sister, volunteer, teacher's aide, self advocate, motivational speaker, fitness enthusiast, teacher, friend, conversant in sign language, student, pioneer, teaches Ti Chi to seniors in an extended care facility, a dancer, a volunteer for over eight years now helping toddlers with cerebral palsy and most of all a powerful woman. She also happens to have Down syndrome, and she carries and proves the National Down Syndrome Congress mantra loud and clear, "We are more alike than different" She has among her many goals a committed passion to end the world of the "R" word.
Carrie described bullying in a subtle way. She addressed teasing and two strategies to handle the effects. She spoke of ignoring and educating those who are not kind. She declared her choice to be an educator, and her example of executing on her goals and empowering herself were not lost on others or me in the room; definitely strong business and life lessons well received.
The ability to know oneself and show up as you are and where one is at is a powerful reminder to me to be who you are and where you are. An honest assessment of that was clear by her description of her stated goals, many we take for granted, such as our safety and welfare, transportation, communication skills, personal needs, and financial management. It was inspiring to me to hear of her genuinely held gratitude for her parents, teachers, doctors, staff, karate sensei, aides and friends in her life.
Her medical challenges, which were many and seemingly insurmountable from heart, thyroid, and cataracts to name a few, were met with similar courage and focus. She spelled out her long list of medical conditions faced and overcome and then closed the topic by saying, "Walla! I am like a new person." The inclusion of ways she can control and maintain her quality of life and self-advocacy and the description of the discipline to achieve this is nothing short of what it takes a professional athlete to excel or a business to prosper. She goes to the YMCA gym six times a week, doing yoga, walking three miles on the treadmill, stretching, weights, and cardio, doing classes, such as Zumba, and she goes to karate twice a week.
I listened in awe as she happily and humbly described her life and approach to it. She spoke of things so fundamental in my life both personally and professionally the same as hers, such as the ability to learn, grow, and persevere by repetition. She spoke of her ability to learn by hands-on and visual teaching methods. Her commitment to the framework of her daily life detailed such important matters as nutrition, healthcare, purpose, fitness, and structure. Some of my personal mantras were clearly hers — reminding me of our similarities and not our differences. The idea that repetition confirms and intensifies is something anyone who knows me more than a day hears me repeat and live (pardon the pun) over and over again. She outlines the must for structure and framework and declares how it provides four walls in which one is free not chained.
Self-advocacy for basic human rights is a courageous act. I was both moved by her powerful ability to model self-advocacy and the resulting game changer she is in her own life and that of countless others. Father Paul Hritz of St Malachi used to remind me that, when we feed others, we are the ones really being fed. I came to support Carrie Bergeron and she supported and inspired me in being and appreciating all I can be and that I am.
At one point in her presentation, Carrie, who performs interpretive dance with sign language, mixed music, dance, and sign language to share about friendship and its value. She taught us sign language for friends — "love" and "forever" — and we danced and sang and signed it with her. Part way through the song she noticed that I had stopped moving my hands, and she looked me in the eyes. She held her gaze with my eyes until I began again with her, and then she moved on. Her gentle reminder was not lost on me to be present to those we are serving. Her loving gaze pierced my soul.
A young woman declared to me and to all of us, "I take the DIS out of DISABILITY and make it my ABILITY to advocate for those of us with special needs." She is Carrie Bergeron, a self-advocate and teacher. She happens to have Down syndrome. She is empowered. She is a game changer.
If you are a business looking for a dependable, qualified, dedicated, and diverse workforce, check out the Ohio Employment First website. If you are looking for an impactful gift, please consider making a donation to The Arc. Contact Cindy Norwood at [email protected].
Link to CBC Magazine: http://cbcmagazine.com/2014/07/01/kevin-goodman-the-game-changers-that-we-meet-along-the-way/