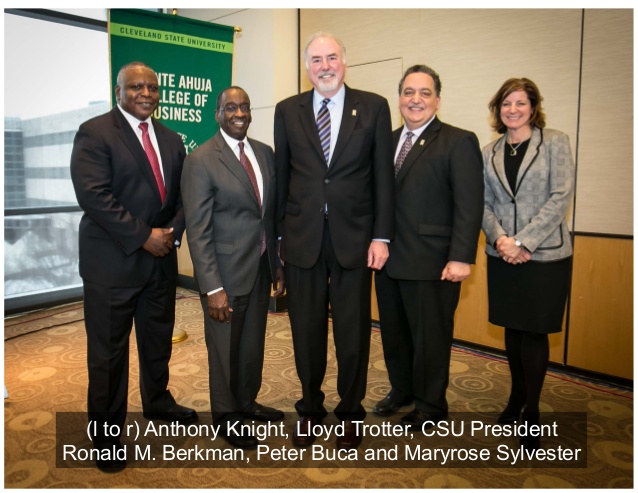 This past year Cleveland State University celebrated its 50th Anniversary. The year was marked by many festivities accented by the CSU Presidential Forum. Students, Alumni, Faculty and the Community witnessed a series of special panels featuring nationally renowned thought leaders who explored the future of education, healthcare business and leadership in northeast Ohio and the world. The series formalized CSU's 50-year long-standing significance to the Region and beyond.
"The 50th Anniversary was a moment to recognize the critical role that CSU has played in the life of the city and the region, providing opportunities for over 120,000 students to earn degrees. Our year-long series of panels, many of which included Alumni, explored a range of issues that will challenge our resolve and creativity as we begin the path to the educational and research activities that will equip our students to compete in a rapidly changing world and leave their marks in public service, business, law, science and the arts and humanities", noted Ronald M. Berkman, Ph.D. President Cleveland State University.
The panels were both commemorative and engaging. They served as launching pads for a continuing dialogue and ongoing action in our Community. All of the University's Schools and Deans were represented along with many past University Presidents and Community notables.
A recap of the President's forum with the video:
http://livestream.com/accounts/7478988/events/3562557
Visit the CSU 50th anniversary site for more information.
This year brings no less cause for celebration and makes for a hopeful future as US News and World Report named CSU among the best in the nation. Many of CSU's schools and graduates continue to bring national attention and acclaim.
From its new Arts Campus at Playhouse Square, including a new gallery and Allen Theatre, to NEOMED, recently opened on its downtown Cleveland campus and noted with significant support and grants for the same.
One theme is crystal clear – Cleveland State is and continues to be a catalyst for our region's workforce and economic development. Its rich history of granting degrees to many ' first time college graduates', providing for an affordable world-class education to worthy, able, hardworking students, while providing the region with a continuing skillful and competitive workforce. The University's work affords the region the ability to continue to empower our area helping it to compete in an ever-changing and increasingly more sophisticated Global marketplace. Simply put, the last 50 years have improved the quality and sustainability of life in our region and the world and it remains poised to do more over the next 50 and beyond…

Kevin Goodman is the managing director, partner with BlueBridge Networks, a downtown Cleveland-based data-center business. He attended the JD/MPA program at John Marshall Law School and College of Maxine Levin Goodman College of Urban Studies at Cleveland State. Additionally, He holds a BA from Cleveland State in Political Science with a specialization in Political Communication. He can be reached at (216) 367-7580, [email protected].
Link to Cleveland+ blog: http://blog.clevelandplus.com/2015/09/21/celebrating-csu-50-years-of-cleveland-state-university/