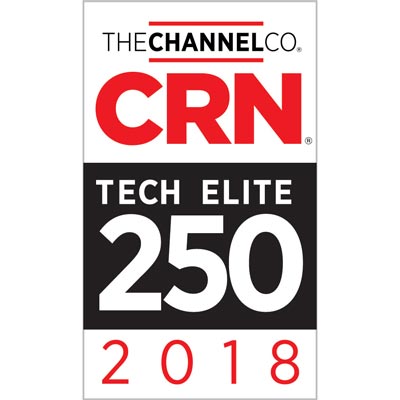 Tech Elite 250 list recognizes IT solution providers with deep technical expertise and premier certifications
— BlueBridge Networks announced today that CRN®, a brand of The Channel Company, has named BlueBridge to its 2018 Tech Elite 250 list. This annual list honors an exclusive group of North American IT solution providers that have earned the highest number of advanced technical certifications from leading technology suppliers, scaled to their company size.
To compile the annual list, The Channel Company's research group and CRN editors work together to identify the most customer-beneficial technical certifications in the North American IT channel. Companies who have obtained these elite designations— which enable solution providers to deliver premium products, services and customer support—are then selected from a pool of online applicants.
BlueBridge recognizes the increasing pace of change in the Digital Age. Operational Excellence is paramount to raising the bar on workforce talent, levels of security and compliance, in order to help customers continue to compete in a global marketplace.
"Being named to CRN's Tech Elite 250 list is no small feat," said Bob Skelley, CEO of The Channel Company. "These companies have distinguished themselves with multiple, top-level IT certifications, specializations and partner program designations from the industry's most prestigious technology providers. Their pursuit of deep expertise and broader skill sets in a wide range of technologies and IT practices demonstrates an impressive commitment to elevating their businesses—and to providing the best possible customer experience."
"Our most valuable resource is talent – to continue attracting the best available team, we must be involved in our Community. Through the value of ongoing education, training and certification, for both our internal and external customers, we thrive. This is supported by our active philanthropic and innovation efforts. This enables us to both attract and retain an empowered workforce," said Kevin Goodman, Managing Director, and Partner of BlueBridge Networks. He continued, "Our primary involvement and focus is, indeed, with our current Team. We are also mindful of helping our Region in the workforce development arena through growing a K-12 feeder pipeline and providing mentoring and internships to the college and entry level IT workforce."
Coverage of the Tech Elite 250 will be featured in the April issue of CRN, and online at www.crn.com/techelite250.
Original Post: PR Newswire