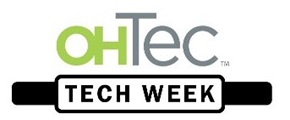 Hosted by OHTec and a number of community partners, Tech Week is an annual initiative to support and engage the local tech community through education and networking.  Originally, our intent was to expand upon the Best of Tech Awards and to increase awareness of the IT industry in Northeast Ohio. We've since expanded our efforts by developing new partnerships to include programming that supports entrepreneurs, executives, students, educators and other stakeholders in the IT industry.
This exciting week will kick off at Tri-C on April 16, 2018 (limited space still available) with an update on current laws, policies, trends and tips regarding cloud computing, cybersecurity and all things data. With the speed that technology is moving, everything can change in a heartbeat, including the future of your organization. Join other local executives to learn from a panel of experts about what is new and what has changed.
Keynote Address:
Justin Herdman, United States Attorney, U.S. Department of Justice, Northern District of Ohio
Event Details:
Date: April 16th, 2018
Time: 7:30am – 9:30am
Location: Advanced Technology Training Center
3409 Woodland Avenue | Cleveland, OH 44115.
Registration & Breakfast 7:30- 8:00 AM
Welcome 8-8:15 AM
Keynote Address 8:15-8:45 AM
Panel with Q&A 8:45-9:30 AM
Importance of Tech Week
Eaton CIO and RITE Board Chairman, Bill Blausey, stated this about Tech Week: "I believe that OHTec's Tech Week has become one of the most important events in our region.  It is truly a celebration of the many great technology companies and technology teams that we have in Northeast Ohio.  It gives us a chance to build awareness about our technology community.   It gives us an opportunity to learn about information technology careers, understand how to build technology talent, and share experiences. Tech Week highlights that Northeast Ohio has a vibrant and growing technology community, and I encourage the leaders in our community to take the opportunity to join the week's events!"
The Current OHTEc Board Chair, Paul Chaffee, CEO of Software Answers, The Creators of ProgressBook, also acknowledged the importance of Tech Week saying: "It's great to see COSE, OHTech and the Northeast Ohio area come together annually and put together an entire week of excellent technology events.  The range of sessions is impressive!  When I look at the calendar and see sessions on security, cloud computing, internet of things (IoT), government security policies, and how to adopt technology in the classroom, it's impossible for me to believe that there is not something for everyone.  The Northeast Ohio Tech region keeps getting stronger and Tech Week gives us a wonderful chance to both learn about technology and see how our neighboring businesses and schools are implementing it."
With the growth and maturation of the technology industry in our Region, Workforce Development is a fundamental component to a sustainable and growing IT community. Addressing this need is RITE (Regional Information Technology Engagement). Led by Courtney DeOreo, RITE is addressing the shortage of qualified tech talent in Northeast Ohio through signature programs for regional high school students such as Passport to IT Careers and The CoolTech Challenge. Since its inception, RITE has partnered with OHTec on Tech Week.  For the first five years of the Passport to IT Careers, this program was held during Tech Week.  In 2018, RITE's signature site visit program – now called RSVP – will be RITE's contribution to this year's Tech Week.  In addition, RITE will continue to partner and convene others in the IT talent development milieu from educators to IT professionals in an effort to streamline and promote the resources available to IT employers, educators, students and job seekers.  Tech Week is a great way to put a focus on these efforts.
See the original blog post here. (From Cleveland +)