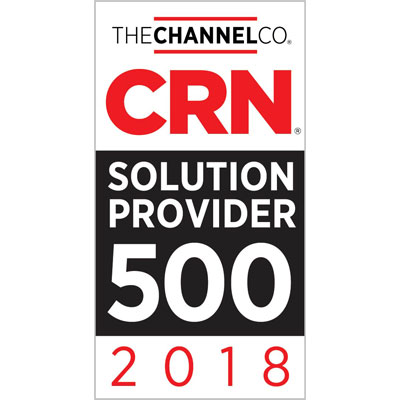 BlueBridge Networks, www.BlueBridgeNetworks.com, announced that CRN®, a brand of The Channel Company, has named BlueBridge to its 2018 Solution Provider 500 list. The Solution Provider 500 is CRN's annual ranking of the largest technology integrators, solution providers and IT consultants in North America by revenue.
The Solution Provider 500 is CRN's predominant channel partner award list, serving as the industry standard for recognition of the most successful solution provider companies in the channel since 1995. The complete list will be published on CRN.com, making it readily available to vendors seeking out top solution providers to partner with.
CRN has also released its 2018 Solution Provider 500: Newcomers list, recognizing 26 companies making their debut in the Solution Provider 500 ranking this year.
"We are truly honored by this recognition to be named as one of the 'best of the best' as an IT Solutions Provider. Thank you to our customers, vendors and staff. Your confidence and trust makes this all possible. Remaining relevant and strong in the Digital Age is no small feat," said Kevin Goodman, Managing Director and Partner at BlueBridge Networks.
"CRN's Solution Provider 500 list spotlights the North American IT channel partner organizations that have earned the highest revenue over the past year, providing a valuable resource to vendors looking for top solution providers to partner with," said Bob Skelley, CEO of The Channel Company. "The companies on this year's list represent an incredible, combined revenue of $320 billion, a sum that attests to their success in staying ahead of rapidly changing market demands. We extend our sincerest congratulations to each of these top-performing solution providers and look forward to their future pursuits and successes."
Goodman added, "BlueBridge is in the business of keeping companies and institutions in business through multiple data center services. The company emphasizes high availability, reliability and security. It is intently focused on Ohio, as well as service organizations from other states and countries." He continued, "While BlueBridge is engaged in traditional hosting and collocation, the company also offers cloud computing and managed services, including managed storage and security. The company has a strong enterprise-class reseller division offering a host of hardware and software solutions, as well as data center optimization services. In a web-centric and data-centric world, data is the lifeblood and we are the stewards of our customer's data. The trusted advisor role we have matured into has helped us bring additional and ongoing value to our customers and increase sales."
https://www.prnewswire.com/news-releases/bluebridge-networks-named-to-crns-2018-solution-provider-500-list-300658656.html