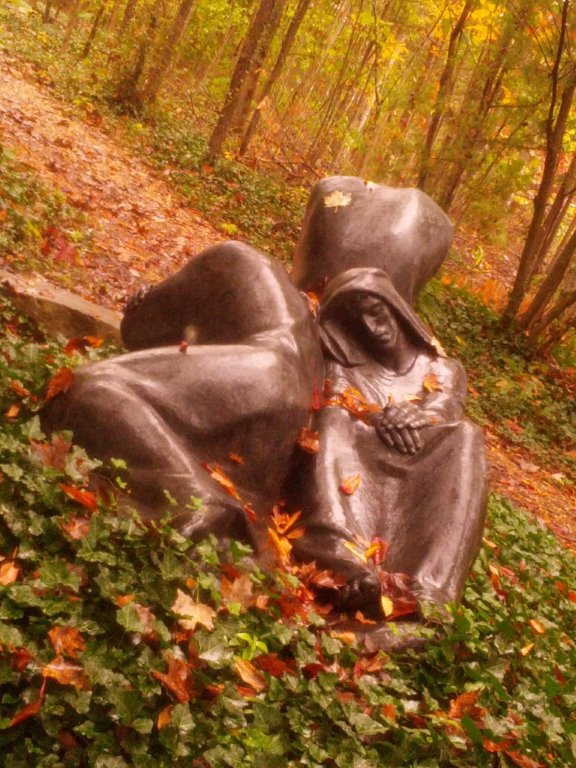 The story of Christ in Agony in the Garden is a short but rich one. It has all sorts of meaning and relevancy to our day. No matter where one stands in their theology they potentially can resonate with many of the stories themes-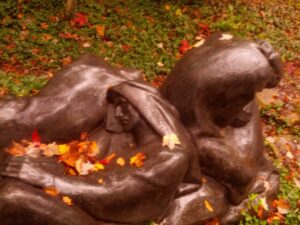 Ever been asleep and not present when you were needed most? …Have you ever turned your back on someone in need of you? Have you ever been or felt alone carrying a tragic mess? Who among us has not felt agony, loss or despair? Who has not had angst hang in his or her heart and mind? Who at some given point has not wanted to face what is to come next?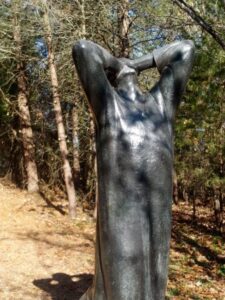 This is a story of a Divine being fully in the presence of his humanness and wanting out… Seemingly the greatest petitioner of all time asking…"If it be thy will, remove this cup from me"…and the answer was NO…and his friends fell asleep through it all- it was too much for them- not once or twice, but three times…Has something been too much for you to hang in and on?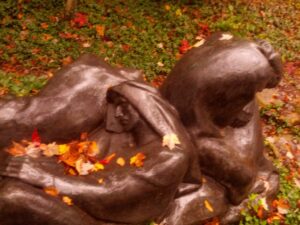 This week on my visit I remembered many of the monks who have since died, particularly as I spent time in the garden– one who I thought about a lot this brief visit was Br. René who tended the paths and statues. He was well known for his devotion for Mary and the rosary was his constant companion. He set up a small "Rosary Museum" in the monastery which he enjoyed showing to retreatants and visitors.  Br. René is famous for his handmade rosaries, crafted from various materials, such as Job's tears and especially rose petals, which he ground and made into beads by hand. I still have one he made for me.
Br. René was a most interesting fellow who was instrumental in developing the bourbon fudge the monks now sell… A number of years ago major wind shears ripped through his forest that he tended religiously  and dropped timber and foliage all around the base of the statue of Christ In Agony and leveled the forest around it… The fallen timbers built a criss – cross box stacked 20 feet high, log on log, like paper around the statue – amazingly no damage was done to it at all… I wrote Rene a note about the loss and he followed up with a short note that simply said – "it will grow back – it always does" and it did…I sat in the garden in his forest for my quiet time this morning and the fall leaves were turning and falling graciously and radiantly. His words and his simple but steadfast reply stuck with me and his promise rang true that morning…"it will grow back – it always does"…
He liked to quote Dom James Fox, who was abbot at the time he entered: "There are only two people in the monastery – me and Jesus." For Br. René, every brother, every retreatant and every visitor wore the face of Christ. He made you feel special in his presence –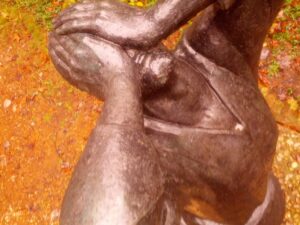 The Garden of Gethsemani is a place named in honor of Jonathan Myrick Daniels , who was an Episcopal seminarian, killed for his work in the American civil rights movement. His death helped galvanize support for the civil rights movement within the Episcopal church where he is regarded as a martyr. He saw the face of God in Ruby Sales and he took a bullet which was intended for her and instead it took him…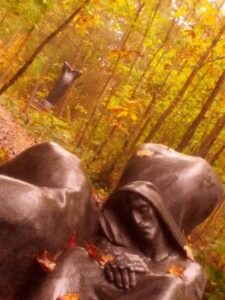 I for one have been on my knees, head in my hands like the statue, begging or imploring God for help with this or that and the strength to carry me through…In defense of the disciples who had fallen asleep, our humanness is tired easily from agony ,especially by the pain of those we love most. Yet, our spirit is resilient and shows us the only way through the pain is through it and the same spirit helps us to carry on… I for one have also been willing as a result of the depths of my personal pain , struggles and losses experienced,  to be one to fight to 'stay awake' and be present and kind when and where I can…sometimes it's too much for me and sometimes not…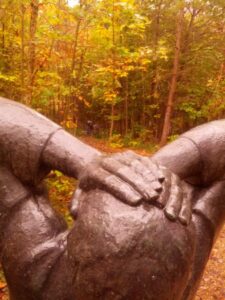 About a month before Dr. Martin Luther King, Jr., was murdered, he recounted one of the many threatening phone calls he received. He said the phone rang and a person said, "If you come here we're going to kill you." And he said, in telling the story, that he had heard those life-threatening calls many times before, "but that night, for whatever reason, it shook me to my roots. I couldn't go back to sleep. I brewed some coffee. I drank the whole pot." He said: "I began to cry at the kitchen table, and I lost all my courage." He said: "I put my head in my hands and I thought, I can't do this anymore. I don't want to die." And he said: "At that moment I felt this strength in me that I had never felt before. I knew what to do, what I needed to do."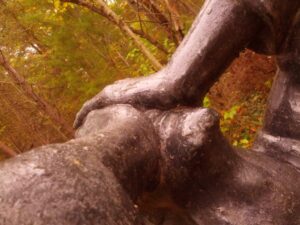 You see and feel the Agony in the Garden, the Garden of Life and it's only after the agony that the angel can come. For both believers or non, it is in our anguish and surrender to it that we then we go through it  and then what comes next arrives and we carry on….