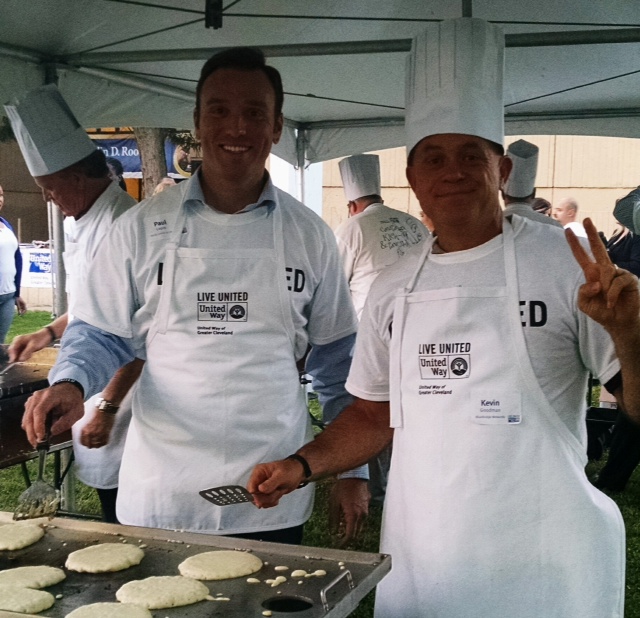 I decided that as a corporate citizen I could come up with a strategy that would align myself and our company's time, talent, and treasure with the Missions of the United Way – Education, Income, and Health as a way to help move the needle and eradicate poverty and improve the overall quality of life in our region. I was moved by my personal experiences and participation with the United Way of Greater Cleveland over time. I decided to be #AllIn, as we like to say in Cleveland, and engage in every way in terms of time, talent, and treasure.
"There's a reason people use the phrase 'corporate citizen,'" Bill Kitson, the president and CEO of the United Way of Greater Cleveland, says. "It's because we know that behind the layers of legal, financial, and regulatory complications, corporations are simply people working toward similar goals. The spirit of teamwork and responsibility is intrinsic to being a citizen in a community and is arguably even more important to businesses. There is a moral imperative to give back and to contribute to the community. The household names we associate with great success are often the businesses that employ social responsibility methods."
The national media frequently rank Cleveland and Northeast Ohio at or near the top of various notable lists. Increasingly some of those lists illuminate glaring disparities about our area. The ones that keep coming up seemingly in the negative are centered on our poverty level. Certainly pockets of our metropolitan areas are more than 30 percent comprised of residents living at or below poverty levels. Each day one in five children faces hunger; one in six is hungry as you read this. It is for this very reason I thought long and hard about how I could move the needle in our region around poverty and improving the overall quality of life.
Rather than beginning our company's own philanthropic arm, we choose to warp our efforts around institutions and organizations that were already making measureable change. The desire to be a change agent and move the needle is statistically enhanced when we work smarter and not necessarily harder. We can pool our collective community resources and leverage and facilitate change agency in collaboration.
The goals of my corporate citizenry are:
Give voice to those in situations of poverty
Provide education opportunities to effect change
Support activities like workforce development, research, recreation and leisure, and recovery that improve the quality of life in our region.
So I began to support many various types of organizations, some old to the Cleveland scene and some new. We are the marquee sponsor for the Cleveland Playhouse's Matinee Program for school children; we sponsor the MOCA children's programs and are philanthropic donors to the United Way of Cleveland, earmarking our effort to the CMSD among many other focused and quieter efforts.
All over our city organizations are bridging the education gap. One such organization I enjoy bringing BlueBridge support to is Lake Erie Ink. The not-for-profit 501(c)3 provides creative expression opportunities and academic support to youth in the Greater Cleveland community. The Cleveland Playhouse, Cleveland Museum of Art, and other longstanding institutions help in the creative stimulation of our youth. Call on these organizations to see where you can send mentors or supplies and donations.
I focus support on the Tony Award-winning Cleveland Playhouse as I have a firm belief that the arts can be a great motivator of change and inspiration. The amazing Cleveland arts landscape was a powerful example for me in my youth. The CPH are celebrating its 100th season this year.
Kevin Moore, the managing director of CPH, agrees on the idea about giving voice to the poverty effort, saying, "Theatre is a mechanism in which we share stories of who we are and where we come from in a collective environment, often times giving voice to those who might otherwise be voiceless. Cleveland Play House developed the very first theatre education programs in the country as a response to the Great Depression in 1933. Since then, CPH has recognized the importance of offering arts and arts-integrated learning opportunities to the surrounding neighborhoods and region. Today CPH is working alongside the Cleveland Metropolitan School District utilizing theatre techniques to transform education through social and emotional learning, giving this generation of students the tools they need for learning readiness, academic achievement, and healthy families and communities. It is through the support of our incredibly generous Northeast Ohio community that we are able to combat the cycle of poverty through these initiatives. Corporate philanthropy helps build a healthy community for people of all walks of life. The result is a great business environment and an enjoyable place for employees and their families to live, work, and play."
Where we fall on these negative lists should inspire rather than discourage us. A line that reminds me of the resiliency of the human spirit and the amazing capacity to begin again is, "He who falls lower can climb the highest for he starts from lower down." This resonates with me when I think of how business can both benefit and serve the part of its workforce that is suffering.
It is not my intent to argue the merits of the old adage about feeding a person vs. teaching one to fish so they can feed themselves. First things first — feed, clothe, and shelter those who need it and teach, inspire, nurture, mentor, educate, share, leverage, and train. The pathway out of poverty is to continue to improve and make available viable sustainable opportunities for the workforce, industry, and commerce. The Teach One to Fish vs. Feed Them when and where they may require is a necessary combined mentality to help eradicate poverty and increase the chances of prosperity.
Indeed, doing seemingly ordinary things with extraordinary love and intention will help an organization as much as an individual to create exponential results and help build a company's brand and stellar reputation. It is said that character is the sum total of all of your thoughts, words, and deeds. That holds true, as well, to the character of an organization.
These efforts typically over time will be noticed by the local media; this is evident by the many articles and features written about the company I have been privileged to work for over the years. BlueBridge Networks has been rewarded for its philanthropic efforts, world-class customer service, and innovation while being recognized for its excellence. Members of our staff regularly participate in panels, webinars, speaking engagements, and seminars, along with tours of our facilities, to educate others and continue to teach ourselves how we can best serve the local business and IT community. Our company has also embarked on a formal initiative to reach out to the nonprofit community to offer services at reduced rates. As a result, we are known as thought leaders and stewards.
It is important for a company, no matter its size, to encourage all of its employees to volunteer as a way of supporting the community. We are becoming more and more involved in the area of contributions to the community by seeking out institutions we can support.
A terrific way to gain credibility in the market place and gain traction in a region is to demonstrate dedicated and consistent giving and participation in a community over time. These efforts can be most impactful when missions of a company and the organizations it wishes to serve have alignment. It becomes even more impactful as employees' life experiences and common causes sync with these missions. This formula becomes a recipe for success and enrichment all around. True reciprocity!
Companies can legitimately coattail and leverage credibility by delivering over time to a particular mission. Associations with these valued institutions enhance their brands. Employers can help to facilitate an increase in job satisfaction by deepening their employees' held sense of efficacy beyond the "four walls" of the workplace environment.
Our city has great roots and legacy in so many ways. Many of our early captains of industries have left us great, lasting endowments and institutions, which add to our quality of life today — from University Circle, the Cleveland Museum of Art, and several museums all over the region, to Severance Hall and the Cleveland Orchestra, various colleges and universities, parks, and foundations. We have found ways to blend in the old with the new. We have fought back against the court of public opinion by rebuilding and adding and growing new and revised industries, such as Biosciences and Health Services and Information Technology, and even cultivating a burgeoning Film Industry, thanks to many, such as Ivan Schwartz and the Greater Cleveland Film Commission. Ivan Schwarz, president of the Cleveland Film Commission. The organization's vision is to achieve increased economic development in Northeast Ohio by using the artistic and culturally enriching activities of film and other media production to strengthen the workforce, support the media production industry, and attract media production to the region. Its mission is to promote the increase of media production in Northeast Ohio using effective strategies for attraction and workforce development including building an artistic infrastructure through film.
As a business development professional, I have a focus and drive to be a change agent and thus grow revenue. I am hyper-focused on giving back to our community and world. The No. 1 reason for "giving back" should be because it is the right thing to do. Helping an individual or an organization by providing time, talent, and/or monetary contributions comes from the heart, first and foremost.
It is second nature to American businesspeople to help others. Lending support, whether it involves sitting on the board of a charitable organization, writing a check each month to a favorite cause or putting your sweat and muscle toward a worthy physical project, is the successful entrepreneur's way of sharing his or her wealth with others. Such altruistic endeavors have helped to build hospitals, educate underprivileged children, and ensure that the less fortunate get the nourishment and medical attention they need and deserve.
Along with a feeling of accomplishment, these actions bring an unexpected benefit, one that is not often discussed for fear of sounding self-serving: Philanthropy reinforces business success. By extending time and talent outside the office, an entrepreneur reveals his or her personal and professional integrity, underscores his or her skills, and illustrates a commitment not just to an individual business but to the community and the greater good.
As the managing director of business development and partner of BlueBridge Networks, a Cleveland-based data-center business, I have consciously chosen to grow our standing in the community, with complete buy-in from the shareholders, by formulating a model of giving.
In a web- and data-centric world, data-center service providers today are no less trusted advisors than one's own attorneys, clergy, doctors, and accountants. If you are down and out, you will be just that. We learned that the values of passion, stewardship, dedication, and efficacy resonate. The day-to-day repetition confirms and intensifies the ability to provide unparalleled service. We provide that world-class service day after day because the customer wants and deserves it, and we are just the company to provide it. This is demonstrated, proven, and forged not only by our operational excellence in our field but also by our active participation in our community and our world in many areas — education, innovation, and research to name a few. Take a risk and be #AllInCLE where it really matters… "Move the Needle" by helping to eradicate Poverty and improve the overall quality of life in our region.
Kevin Goodman is the managing director, partner with BlueBridge Networks, a downtown Cleveland-headquartered data-center business. He can be reached at (216) 367-7580, [email protected], kevinjgoodman.com, and bluebridgenetworks.com.
Link to article in CBC Magazine: http://cbcmagazine.com/2015/07/20/kevin-goodman-successful-entrepreneurs-always-find-a-way-to-help-the-needy/